¿LE IMPORTA A USTED PROTEGER LA VIDA HUMANA INOCENTE?
Querido amigo de la vida,
Está bien establecido que el poderoso lobby del aborto de Illinois, encabezado por Personal PAC, está navegando el barco del actual partido demócrata.
Sin este poderoso lobby del aborto, Illinois no hubiera aprobado la Ley de Salud Reproductiva (SB 25) que legaliza el aborto hasta el momento del nacimiento, por cualquier motivo. [Según una encuesta del 2019 por NPR/PBS NewsHour/Marist, solo el 18% de los estadounidenses quieren cero restricciones] Vean, intimidaron a muchos legisladores demócratas para votar por este proyecto de ley impopular.
Sin embargo, no tuvieron que intimidar a Theresa Mah (D), porque ella estaba de acuerdo con este impopular proyecto de ley desde un principio. ¡Ella lo copatrocinó! Incluso quería que se aprobara cuando incluía estipulaciones que (1) permitían que personas que no fueran médicos realizaran abortos y (2) obligaban a todos los hospitales (incluso los católicos) a proporcionar abortos. ¡Eso es extremo! La versión final del proyecto de ley sigue siendo extrema y no representa los valores de los vecindarios de nuestro distrito.
Esto es lo que hace la nueva ley:
Hace del aborto un derecho básico en Illinois, incluso en bebés viables a término tardío.
Revoca la prohibición en Illinois del Aborto por Parto Parcial. Sí, una revocación del todo!
Eliminan TODAS las regulaciones significantes de las clínicas de aborto.
Requiere que las compañías de seguro cubran por completo los abortos.
Excluye a las clínicas de aborto del marco reglamentario diseñados para procedimientos médicos significantes, como la cirugía ambulatoria.
No permite leyes en el futuro que restrinjan el aborto en Illinois. …Y mucho más
Como las encuestas indican, una gran mayoría NO quiere el aborto sin restricciones. PERO NO Theresa Mah. De acuerdo con los informes financieros de la campaña de Illinois, Theresa Mah cuenta con el apoyo financiero de Personal PAC. Queda claro que la gran poderosa y rentable industria del aborto le pagó y la compró.
Pero No Bobby Martinez Olson. ¡El se opondrá al lobby del aborto y se unirá a las familias que forman la mayoría!
Bobby está cansado de las tácticas que usan Personal PAC y el lobby del aborto. Está cansado del real extremismo que ha guiado la nave del partido demócrata en Illinois por demasiado tiempo ya. Está cansado de los legisladores que respaldan un lobby tan radical.
Por eso le pedimos su apoyo para vencer a Theresa Mah. Bobby se opone al aborto sin restricciones y defiende a todas las personas vulnerables de su distrito; especialmente los nonatos inocentes.
ICE-PAC orgullosamente respalda a Bobby Martinez Olson para el 2ndo Distrito de la Cámara del Estado.
Como fiel católico, Caballero de Colón, y miembro activo de la comunidad, Bobby ha visto los resultados de la mala política dirigida por Theresa Mah. Como nativo de Chicago, antiguo alumno de St. Ignatius, y graduado de Loyola, trabajará para recuperar la dignidad que merecen las familias de Chicago.
Le pedimos que por favor apoyen a Bobby Martinez Olson para el puesto del 2ndo Distrito de la Cámara del Estado votando por él y compartiendo este mensaje con amigos y parientes de ideas afines que viven en Bridgeport, Pilsen, Brighton Park, McKinley Park, and Chinatown. 
Con su elección, tendremos un aliado para derrotar los proyectos de ley peligrosos y horrendos que Personal PAC le empuja a las familias de Chicago, como la revocación de la Ley de Notificación de Aborto de los Padres.
VOTE A FAVOR DE LA VIDA VOTANDO POR BOBBY MARTINEZ OLSON EN LA PRIMARIA DEMOCRÁTICA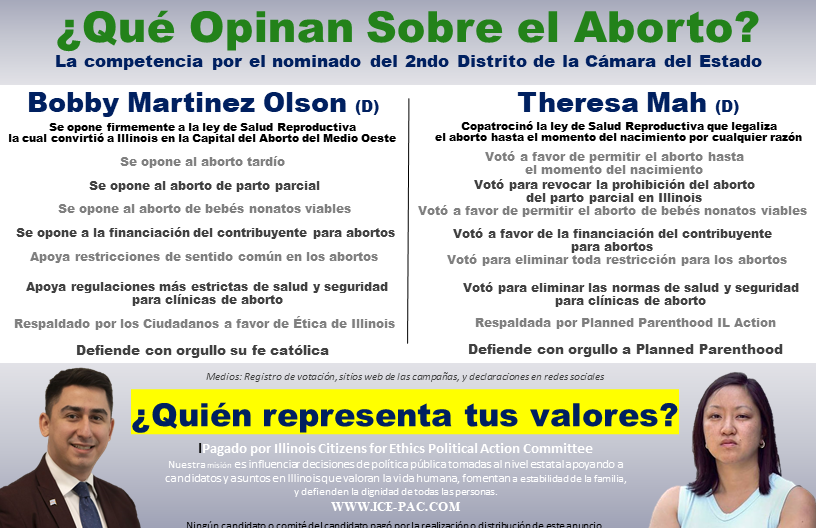 DO YOU CARE ABOUT PROTECTING  INNOCENT HUMAN LIFE?
It's well established that the powerful abortion lobby of Illinois, headed by Personal PAC, is steering the ship of the current Democratic party.
Without this powerful abortion lobby, Illinois would not have passed the Reproductive Health Act (SB 25) legalizing abortion up to the moment of birth, for any reason.  [According to a 2019 NPR/PBS NewsHour/Marist Poll, only 18% of Americans want zero restrictions] You see, they strong-armed many Democratic legislators to vote for this unpopular bill. 
They didn't need to strong arm Theresa Mah (D), though, because she was on board with the unpopular bill from the very beginning.  She co-sponsored it!  She even supported it when it included provisions that (1) allowed for non-doctors to perform abortions and (2) forced all hospitals (even Catholic ones) to provide abortions.  That's extreme!
The final version of the bill still is the most extreme in the country, going far beyond what Roe V Wade was meant to do.  Needless to say, it definitely doesn't represent the values of the neighborhoods of our district. 
Here is what the new law does:
Makes abortion a basic right in Illinois, even on late-term viable babies.
Repeals the ban on Illinois' Partial-Birth Abortion ban. Yes, a 100% repeal! 
Removes ALL meaningful regulations of abortion clinics.
Requires insurance companies to fully cover abortion.
Removes abortion clinics from a regulatory framework designed for significant medical procedures, like outpatient surgery.
Disallows any future laws restricting abortion in Illinois. …and much more!
Like polling shows, an overwhelming majority of us DO NOT want unrestricted abortion.  Theresa Mah wants it, thgouh.  Based on Illinois campaign finance reporting Theresa Mah is financially supported by Personal PAC.  It's clear she's bought and paid for by the big, powerful, and profitable abortion industry.  Clearly, her loyalty is not with us.
Bobby Martinez Olson will stand against the abortion lobby, and he'll proudly stand with mainstream families!
Bobby is tired of the tactics Personal PAC and the abortion lobby use.  He's tired of the real extremism that has steered the ship of the Democratic party in Illinois for far too long.  He's tired of legislators who stand with such a radical lobby.
That's why he's asking for your support in defeating Theresa Mah.  Bobby stands opposed to unrestricted abortion and stands for all vulnerable people of his district; especially the innocent unborn.
ICE-PAC proudly endorses Bobby Martinez Olson for the 2nd House District of Illinois.
We ask you to please support Bobby Martinez Olson for the 2nd House District Seat by voting for him and sharing this message with like-minded friends and relatives who live in Bridgeport, Pilsen, Brighton Park, McKinley Park, and Chinatown.
VOTE PRO-LIFE BY VOTING FOR BOBBY MARTINEZ OLSON IN THE DEMOCRATIC PRIMARY