Illinois Politics
---
March 21, 2014
Our voices were heard loud and clear this primary season! Seven of the nine candidates endorsed by Illinois Citizens for Ethics PAC won in Tuesday's primary elections for the Illinois House, while another race was decided the following day because it was so close!
Thank you for your role in making this happen, through your financial support, volunteer efforts and spreading the word on these great candidates. Illinoisans showed that they turn out and vote for candidates that represent the "mainstream values important for life and family" that ICE-PAC promotes.
So, don't be fooled. The candidates that are visible advocates for policies that protect and promote the family, the unborn, pregnant women, and authentic marriage were the BIG WINNERS. And in turn, the Illinois people won as well.
2014 PRIMARY RESULTS     (winner in bold)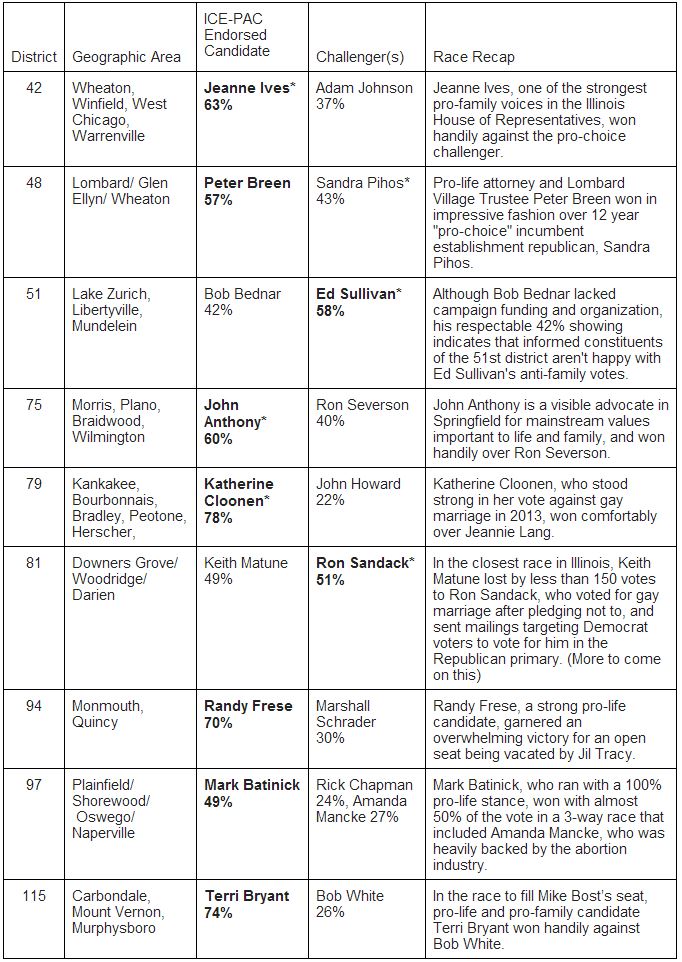 *Incumbent
In summary:
7 out of 9 ICE-PAC endorsed candidates won.
We knocked off a pro-abortion incumbent of 12 years.
We had a major role with our fundraising and activism in mobilizing volunteers and community support.
We almost knocked off a pro-gay-marriage incumbent – lost by less than 150 votes.
Overall a great day for anyone who believes in mainstream values important for life and family.
Your support matters! These candidates did not do it alone. They had help from organizations like ICE-PAC, who encourage them to take a conservative stand on social issues, while defending them from attacks from liberal candidates and organizations.
Thank you for supporting ICE-PAC, the biggest and best grassroots pro-family political action committee in Illinois.
---
November 7, 2012
Illinois Citizens for Ethics, a statewide political action committee, celebrates the election of David McSweeney as State Representative for the 52nd District. McSweeney defeated Independent Dee Beaubien, who received significant funding from abortion advocacy groups.
"When Beaubien announced her candidacy and Personal PAC said they would spend whatever was necessary to get her elected, we knew we had to get involved in this race," said Mary-Louise Hengesbaugh, Spokeswoman for ICE-PAC.  "Personal PAC's policy positions are way out of step with the values of the general public. This is a group that supports taxpayer-funded abortion, opposes laws that ensure informed consent for women who are seeking abortions, and opposes a parent's right to know about a minor daughter's abortion and won't endorse candidates unless they fully support this agenda."
Over the past month, ICE-PAC volunteers worked tirelessly to raise awareness among constituents in the 52nd District of Beaubien's radical views on abortion, and to encourage them to vote for pro-life McSweeney. "Pro-life and family values are clearly important to the residents of this district, and our message obviously resonated," Hengesbaugh stated. "McSweeney's victory proves that supporting common-sense pro-life laws is a winning strategy for those seeking public office in Illinois."
Hengesbaugh also noted that pro-choice groups donated over $100,000 to Beaubien's campaign, while ICE-PAC spent a fraction of that – just under $2,000 – on voter education materials. "Personal PAC and Dee Beaubien may have had more money, but ICE-PAC volunteers and David McSweeney worked harder and are more in touch with the residents of the district," she said. "We believe that the key is voter education, and this outcome confirms that."


---
October 13, 2012
The candidates for the 52nd House District seat say their top priority in Springfield would be improving the state's economic climate, and yet social issues like abortion at times have taken center stage in the heavily contested race.
Whereas Republican David McSweeney's negative attacks on opponent Dee Beaubien mainly attempt to align here with Chicago political bosses intent on raising taxes, the independent candidate counters by shining a spotlight on what she labels McSweeney's "extreme views," particularly regarding abortion.
"The government has no role when it comes to personal choice," Beaubien said. "This is the big thing that really distinguishes me from my opponent."
David McSweeney needs help from pro-lifers in order to defeat Beaubien! Click here to volunteer with us for David. Click here to donate to this race!
---
April 7, 2011
CHICAGO, IL — Illinois Citizens for Ethics, a new state political action committee, opposes the confirmation of abortion rights leader Terry Cosgrove to the Human Rights Commission.
After he was nominated for the position by Democratic Gov. Pat Quinn, the Democratic-led state Senate today confirmed Cosgrove's appointment to a term that will expire in January 2013. Thirty members voted in favor, 25 opposed, and two voted present.
Cosgrove has served since 1999 as President and CEO of Personal PAC, a political action committee that provides funding to "radically pro-abortion" candidates in Illinois, said Mary-Louise Kurey, Vice President of Public Relations for Illinois Citizens for Ethics. "In order to receive Personal PAC's endorsement, candidates must agree with a number of extreme positions, including repealing Illinois Parental Notice of Abortion law for minor girls, and restoring public funding of abortion coverage through the state Medicaid plan. Overwhelming majorities of Illinois voters oppose such radical policies," said Kurey.
Kurey also said that the appointment of Cosgrove was a conflict of interest and "an example of pay-to-play politics at its worst." Cosgrove's group spent more than $400,000 in support of Gov. Quinn's reelection in November, purchasing mailers, robocalls and TV ads that focused on the strong pro-life views of his opponent Bill Brady. One of Brady's top campaign officials blamed Personal PAC for Brady's narrow loss.
"Personal PAC's philosophy and political tactics are way out of step with the values of the general public," said Kurey. "The citizens of our state deserve better than the leader of this group."
---