Christmas Season Appeal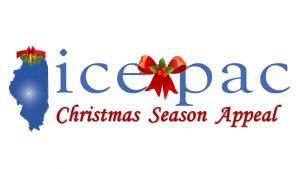 This Christmas Season (ending on January 13 – the date of the March for Life Chicago and Feast of the Baptism of Jesus) please consider financially supporting our mission.  Help us continue to work for mainstream, common-sense pro-life policies in Springfield. Your donation will help us support pro-life-voting legislators, support new viable pro-life candidates, and support pro-life issue-awareness campaigns.
[stripe payment_button_label="Donate by Credit Card" description="Donation"]
[stripe_text label="First Name:" id="first_name" required="true"] [stripe_text label="Last Name:" id="last_name" required="true"]
[stripe_amount label="Donation Amount:"]
[/stripe]
Online donations to ICE-PAC are processed via Stripe, a certified PCI Service Provider Level 1, the most stringent level of certification available. Your credit card information is passed directly to Stripe; none of your credit card information ever exists on the ICE-PAC server. You can be confident that your financial data will be protected.
To Pay by check, make payable to Illinois Citizens for Ethics, and mail to:
Illinois Citizens for Ethics
PO Box 101158
Chicago, IL 60610
A copy of our report filed with the State Board of Elections is (or will be) available on the Board's official website (www.elections.il.gov) or for purchase from the State Board of Elections, Springfield, Illinois.
Please note that contributions to ICE-PAC are not tax-deductible.