Contribute Financially
Help us continue our campaign to remove Rep Kifowit from office, through the petition campaign or in the next election.
Your contribution will assist in the following:
 Promoting the petition across the state of Illinois
 Running ads against her in the 2020 election
We cannot let her vitriolic statement go unpunished.  Stephanie Kifowit, Michael Madigan, and all the other representatives need to understand there are consequences for crossing the ethical line.
Thank you for your support.
[stripe payment_button_label="Donate by Credit Card" description="Donation"]
[stripe_amount label="Donation Amount:"]
[/stripe]
Or, send your check, payable to Illinois Citizens for Ethics, to:
Illinois Citizens for Ethics
PO Box 101158
Chicago, IL 60610
Please write "Kifowit" on the memo line to earmark the check towards this campaign.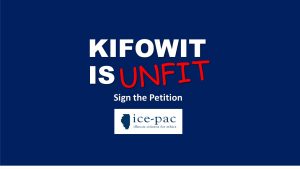 A copy of our report filed with the State Board of Elections is (or will be) available on the Board's official website (www.elections.il.gov) or for purchase from the State Board of Elections, Springfield, Illinois.
Please note that contributions to ICE-PAC are not tax-deductible.